Please note: the address of this website has changed and the old beermad.org.uk domain will soon cease to exist. Please amend your bookmarks as appropriate.
Beermad mobile 2 for Android
Available free from Google Play

With over 1000 British Real Ale breweries producing more than 10 000 beers every year, there's never been a wider range of ales available in our pubs. No wonder thousands of beer-lovers keep a record of the beers they've sampled.
Beermad mobile 2 for Android is designed to make keeping those records even easier. Whether you're a hard-core scooper or someone who just likes to try a variety of ales and keep a note of them, it's designed to make your life easy.
You can record (and show) as much or as little about each beer and brewery as you want. The list below shows what you can record; you choose what to use, only the brewery and beer names have to be recorded.
Please note that this app does not come pre-loaded with a beer database. The beer list will be empty until you start putting beers in yourself.
Screenshots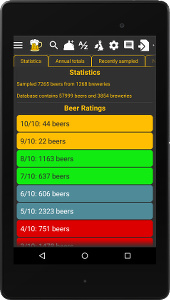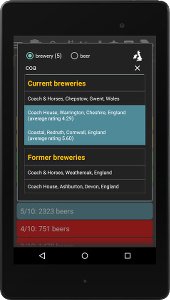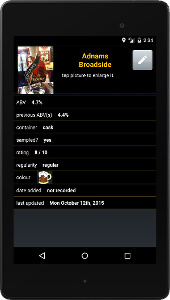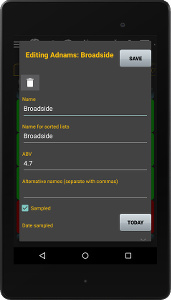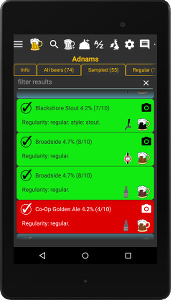 Brewery information
Name
Town
County
Country
Link to website
Link to Quaffale page
Link to Cyclops tasting notes page
Telephone number (with quick-dial link)
Email address
Currently brewing (yes/no)
Notes
Whether use of a sparkler is recommended (get this from Camra's Good Beer Guide)
Date added
Date last updated
Average rating of sampled beers
Up to four extra fields to record anything else about the brewery you want to note
Beer information
Name
Alternative names
ABV
Sampled (yes/no)
Personal rating
Regularity
Colour (as a typed-in name, from a colour-picker or by picking a colour from a photo taken with your camera)
Beer style
Date sampled
Where sampled (Beermad mobile can use your device's GPS to learn the location of pubs you sample beers in and automatically fill this in)
Container (cask, bottle-conditioned, etc)
Sediment preference (for bottle-conditioned beers)
Date added
Date last updated
Photograph (taken with 'phone's camera from the app, or linked to an existing photo on your 'phone)
Notes
Up to four extra fields to record anything else about the beer you want to note
If you keep ratings, you can have a colour bar on each brewery page, giving an indication of how good or bad you've found the brewery's beers to have been (with optional alternative colour-scheme for colour-blind people.
Your existing beer list can be imported into Beermad mobile using a CSV file. All information is kept on your Android device and can be exported from the app either as a CSV file or a Beermad export file (suitable for keeping backups or copying beers to another Android device).
top